2 Best Ways for Creating a Signature
There are 2 simple ways of how to create a signature image without a problem. You don't have to read heavy manuals to do this. All you need is to open specific programs or tools. They are both safe to use and provide you with an extra security level. Read about both methods to learn how to make a signature image and pick something you need in your work.
1. Use eSignature software
The simplest way to create signature image file is actually to draw the signature online. You may go with the programs like Draw Signature Online or just use PDFLiner to remove the signature in the document. Draw Signature Online lets you focus on the signature image you can later add to the document. Follow the instruction:

Enter the program and stay online while you are drawing;
You will see the big empty space in front of you and the panel above this space with the tools you may use. Press Black Square to choose the color of the ink;
Decide upon the width of the pen you will use, moving left or right the icon near the Square;
Place the mouse cursor and draw your name. If you don't like your move, press Undo on the panel. It will send you one step down;
Once you finish your signature, press Download, and the image with your signature will be saved on your computer.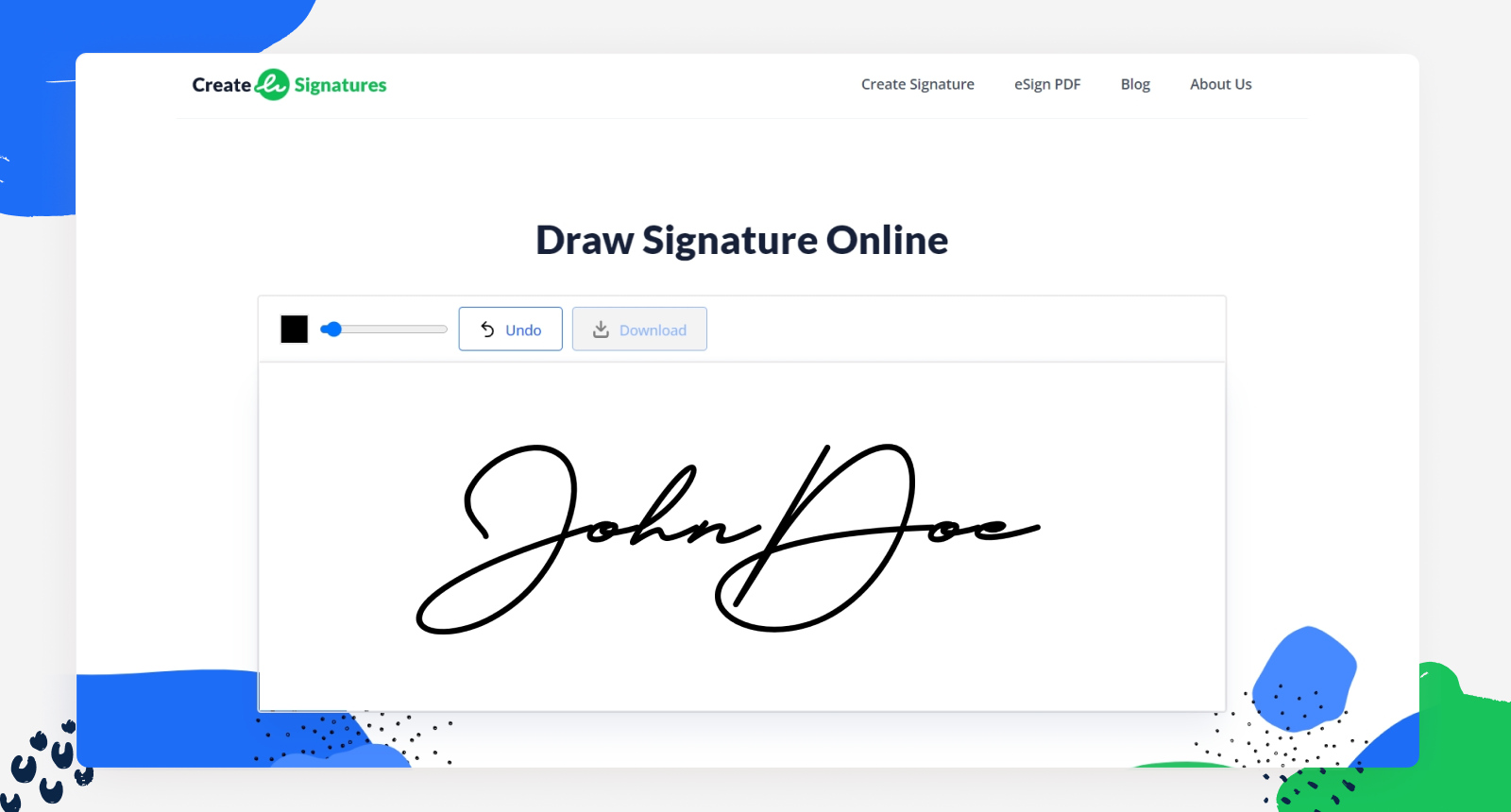 You will be able to Insert it in a PDF or Word document. It is better to use this image in a PDF document since you can easily upload it to the place you picked without any shifts of the data that are already there. Yet, you can always find the appropriate place for the signature image in Word. You have to make it legal in advance.
2. Use a Scanner
If you don't trust your own moves or have a complicated and beautiful signature you want to save in a digital document, you need to learn how to save your signature as an image by scanning it.
While you can just take a photo of your signature and always add the image to the document, not everyone has a high-quality camera on the phone. If you prefer to have high resolution, you can scan your image. Here is how you can create a signature picture:

Write down your signature. The best way is to scan the signature made on white paper with black ink;
Turn on the scanner. Make sure it works. You can try to reach maximum dots per inch to achieve a high resolution. It has the DPI abbreviation on it;
You need to crop the image so there would not be white spaces;
Save the image you've received in the JPG or PNG format;
Upload this image anytime you need to sign the document right inside it. Pick the right place and change the size if you need.
The main attraction of this way is the ability to create the image you may use in a wide range of formats, including PDF. You can just upload this signature and make the document legal. A handwritten signature is widely recognized by authorities.
Pros and Cons of Using Image Signatures
If you are just thinking about creating a digital signature image, you need to learn both pros and cons of each way. There are more benefits, but you can't totally ignore the cons. Check out all the sides to understand whether you need it or not.
Pros
Accessible. You can use this signature even in another country without pen and paper, and you need to sign the document. Use the uploaded image of your signature to do this;
High level of security. Electronic signatures of high quality are hard to copy. Moreover, you can increase security by making the PDF document and encrypting the data;
The paperless method. This method saves forests, which means it saves nature. You don't need to use tons of paper in your work;
Saves time. You don't have to print the document, sign it, or send the letter to another party. Instead, you can attach your signature and send an email;
You will not lose the documents. Once you go digital, you can find the documentation you need right away.
Cons
Depends on devices. You need a scanner or phone to transform your handwritten signature into digital. Another way you will need to draw a signature online. You still need a digital device to add the signature to the document and send this document. You need to be connected to the Internet as well;
Hard to follow changes. Some people simply prefer to use classic handwritten signatures to avoid changes. If you are one of them, you will need some time to get used to the new technologies that the whole world uses. Once you are used to it, you will understand its benefits;
Personal information unsafety. If you don't trust modern technologies, you will be worried about misuse of your personal information. In this case, you need to make sure that your signature is secured and can't be spread to third parties.